Saturday October 15, 2016
9:30 AM
In the spirit of Breast Cancer awareness month of October, we are holding a 3-hour workshop geared towards breast health offering perspectives from a naturopathic doctor, dentist, yoga instructor, and breast cancer survivor. This workshop will cover the following topics:
Current recommended screening guidelines laid out by the Canadian Cancer Society
Diagnostic tests to evaluate breast health
Self breast exam
Various risk factors of breast cancer
Estrogen's link to breast cancer
Daily life practices and strategies to help prevent breast cancer
Nutritional supplementation for prevention of breast cancer
Dental relationship to breast cancer, including root canals, dental infections, and heavy metal toxicity
Yoga breathing practices to promote relaxation and reduce daily stress
First hand experiences spoken from a breast cancer survivor
Attendance is free but you do need to register since there is limited space available.
Light snacks and refreshments will be provided.
If you have a yoga mat please bring it as we will be demonstrating some yoga exercises, if you are not comfortable being on the floor then you can remain seated on the chair.
A donation box will be available for those wishing to contribute something for The Breast Cancer Society of Canada.
About the Lecturers
Dr. Nora Ovtcharova, BSc, ND
Dr. N
ora Ovtcharova is a licensed naturopathic doctor through the College of Naturopaths of Ontario and an active member of the Ontario Association of Naturopathic Doctors. She received her degree attending the Canadian College of Naturopathic Medicine in Toronto after completing her Honours Bachelor of Science at McMaster University. She received additional teachers training in Breast Health through Sat Dharam Kaur, who is a naturopathic doctor, Kundalini Yoga Instructor, and author of: (1) The Complete Natural Medicine Guide to Breast Cancer, (2) A Call to Women: The Healthy Breast Program and Workbook, and (3) The Complete Natural Medicine Guide to Women's Health. Dr. Nora ND maintains a private practice in Toronto, dedicated to patient-centred care and integrative collaboration with other practitioners.
Janet Pizzi, Kundalini Yoga Instructor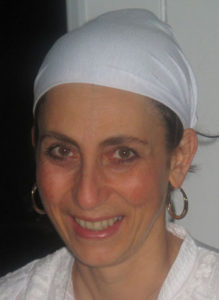 Janet Pizzi has been practicing yoga since 1995, and Kundalini yoga since 2009, and goes by the spiritual name Jaikar Kaur, Lioness of God. In April 2011, she was diagnosed with breast cancer, and found Kundalini yoga practice to be her anchor throughout this journey. Janet pursued the teachers training for Breast Health with Sat Dharam Kaur, ND with the intention of helping and offering guidance to other women that are going through or have gone through a similar journey as herself.

Link to website:
http://kundaliniinniagara.tripod.com/janet-pizzi.html
Dr. Oksana Sawiak, DDS, IMD, MAGD, AIAOMT
Dr. Oksana Sawiak practiced family dentistry from 1966 to 2008, and for the last 30 years focused on mercury-free, biological dentistry. In 1989, she was the first woman in the world to achieve a Mastership in the Academy of General dentistry and in July 2011 attained her Doctor of Integrative Medicine. Dr. Sawiak is the past Vice President of the International Academy of Oral Medicine and Toxicology, president of the Women's Dental Association, and a member of the Ontario Dental Association and the Academy of General Dentistry. Today she lectures in biologic dentistry, non-surgical natural gum treatment, pain control, wellness, and detoxification and has authored two books, numerous articles, and is an accomplished speaker.
Link to website:
RSVP deadline is past
false